We desperately need your help to keep the shelter open. We are living on a month to month basis now.
We have cut staff hours by 20% and have volunteers training to assist them with daily cleaning. We
have reduced the shelter population to 80 cats and kittens through adoptions, and closed Catmandu, one of our three large adoption rooms. This reduces the square footage needing to be cleaned and makes it possible to clean the shelter each day with fewer paid staff members. These are tough and painful choices, but ones we must put in place now to keep our doors open for the cats in our care. They are depending on all of us to keep them safe.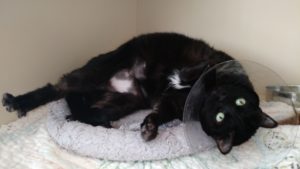 Gina is recovering from surgery to remove bone fragments from all four paws after a botched declawing surgery that took place before she came to Harmony House. Hopefully she will have less pain when she walks, and finally be placed into a home of her own. After all she has been through, this elegant lady deserves a fresh start. Hambone had a double canine tooth growing out of the same socket in his mouth, and required special dental surgery to remove it. Expert veterinary care for Gina and Hambone could be provided thanks to donors like you!
We have pledged lifetime care to every cat who comes through our doors, and with your help we can still be true to that promise. We may not be able to rescue as many cats as in previous years, but with your love and support, we can keep the shelter open, and care for the cats of Harmony House. Please click here to donate today.