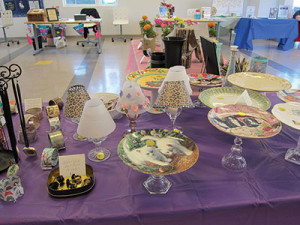 June 5th is our annual Kitty Summer Social which features upcycled creations (art made from recycled materials) for sale. Start getting crafty and share this with your crafty friends! 100% of the proceeds go directly to help the kitties of Harmony House!
 If you would like to donate, here are the details we need from you! Email us at info@hhforcats.org.
May 1st – Commitment that you want to donate upcycled creations for Harmony House to sell at the event, a brief description of your items, and approximately how many of each item you will donate. 
May 28th – Please have all items dropped off at the shelter by this date so we can price and display them for our event. When you drop off your items, feel free to include hang tags or business cards with your items to further market your brand and designs.
June 5th is Kitty Summer Social – Come celebrate with us!
June 19th – We will contact everyone a few days after the event regarding any inventory that is left.  Please pick up any of your unsold artwork by this date.  We have limited storage at the shelter and are unable to store extra items.