Become a Volunteer!
Volunteers are needed in many programs that benefit the cats of Harmony House by raising funds, caring for the cats directly and providing a safe and loving environment for every cat. Read over all the opportunities available, and get involved by signing up online today! You will receive an e-mail acknowledging your application and listing the dates for upcoming volunteer orientations.
Volunteers must be 18 years or older to participate in most volunteer activities. The Cat Grooming and Socialization Program is currently the only activity open to Junior Volunteers ages of 5 – 17.
Harmony House does not accept adults doing court-mandated Community Service Hours.
Junior Volunteers
Harmony House welcomes Junior Volunteers to participate in our Cat Grooming and Socialization Program. Each junior volunteer must be accompanied by his or her own parent or guardian at all times when volunteering. A teacher, older sibling, or family friend cannot be substituted. Children under the age of five are not eligible to be junior volunteers.
Cat Grooming and Socialization Program
During socialization hours, volunteers comb and brush the cats, play with the outgoing cats and kittens and learn one-on-one socialization techniques to help prepare the newer cats for adoption. Additional cat care includes recording weights, cleaning ears and clipping nails. This program takes place 6 – 8 pm on Tuesdays and Thursdays.
Shelter Cleaning Helpers
After completing an orientation, volunteers can sign up to help 11 am – 1 pm on both weekdays and weekend days. Litterpans and Laundry takes place in the work center, scrubbing the pans, and folding clean laundry. Cleaning Helpers shadow a staff member in a large adoption room scrubbing shelves and walls, and sweeping the floors. Volunteers must work quickly to finish before we open for adoption hours.
Outreach
Help the cats put their best paw forward by participating in adoption events and appearing at various pet stores, pet shows and animal-friendly shops. You will promote Harmony House's cats and upcoming events by talking with visitors at our table or booth and distributing newsletters and event flyers. It is important to be reliable, prompt and friendly in interactions with the public. Knowledge of the shelter is necessary to answer questions at an Outreach event. It is recommended that you attend Socialization Nights to become familiar with Harmony House.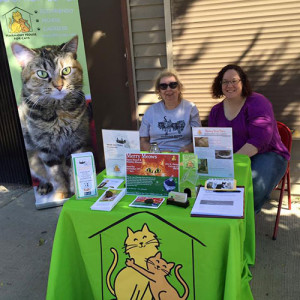 Outreach volunteers must be 18 years or older. 
Special Events
Special events, such as the Spring Dinner, Pet Psychic Fair and Holiday Fest, take place throughout the year and require the talents and hard work of our volunteers. Volunteers are involved with tasks like event planning, making craft items and baked goods, working during the event and helping with clean up after the event. Event planning and set-up usually take place on weekday evenings and special events take place on weekend afternoons.
Special Event volunteers must be 18 years or older. 
Vet Transport
Punctual and reliable volunteers with cars are needed for 8:30 am surgical drop-offs, pick-ups in the late afternoon and/or daytime appointments with the vet. Times are booked 2-5 days in advance and take place on weekdays.